Message from the Head of School
Dear parents/carers
I hope that you have been able to enjoy some of the lovely weather that we have had this week; fortunately it hasn't negatively influenced the attendance of Year 10 students, which continues to be excellent, and they've worked really hard despite the warmth and humidity: they have been a real credit to their families and the school. The staff have really enjoyed being able to teach again in person and welcoming them into school and seeing their (usually) smiling faces. All students have now had lessons in Personal Development and Wellbeing, Maths and Science. English lessons have begun today, and the History and Geography lessons will begin on Tuesday.
September opening
I know that many parents and students in all year groups may be anxious to know what is happening in September. I want to reassure you that we have been working hard to determine how we will open for students after the summer break, depending on the government's expectations at that time.
Currently they have not given us any clear guidance about what this wider opening will look like, although as some of you will be aware, Gavin Williamson, Education Secretary, announced last week that schools will reopen to all pupils full time in September. If it is the case that schools can open safely with all students, this will be excellent news. However, there is yet to be any guidance around what social distancing or other measures are expected to be in place: if one metre distancing was required, for example, a maximum of 50% of students would be able to attend concurrently at any York school. Also, whilst we expect more guidance next week, we are aware that there may well be changes to these initial plans if the 'R' rate changes over the summer holidays.
As such, all the Secondary Headteachers in York have been meeting weekly and working together with colleagues in City of York Council and Public Health to plan for every foreseeable eventuality. We have been working on specific plans for Millthorpe in terms of different potential distancing and hygiene measures that might be required, including a model for a full closure if this should become necessary following a further peak of the virus. We feel confident that we have planned for a number of different scenarios and ensured that Health and Safety is a priority for students and staff in all cases. We will confirm our intentions in the final week of the summer term, but I will also write to parents on Friday 21st August, two weeks before the end of the holidays, to confirm the plans for the return and allow for any necessary changes. We are really hopeful that we can return to school with all students in September.
Online learning
There are three weeks left of school for students and we will continue to set work for all of our students and to give feedback on their Key Assessed Pieces and the work that they are proud of; many colleagues are now using other methods of technology, such as narrated PPTs and different interactive aspects to add variety and engagement to the online learning experience.
Online developments – Introduction of Google Classroom
We will be moving our online learning platform over the next few weeks to Google Classroom. We have been preparing for this transition for a number of weeks, but as the migration will involve the transfer of email accounts, it has been necessary to schedule the move for the end of term in order to manage the impact. We could not risk migrating earlier as email is currently our main method of communication with parents, carers and staff.
From September we will set homework using the Google platform, giving any instructions needed to students and issuing them with new email accounts. It will also be an excellent way of giving students access to lesson resources if they are unable to attend for any reason (eg if their family has to self-isolate) or access was restricted in the future owing to a virus breakout, for example. Training for staff will be during the final week of term with full transfer to Google in that week and during the summer holiday – we have timed this to minimise the risks associated with the wholesale migration of staff email accounts.
Lessons in September
Teachers are currently receiving training on how to adapt their lessons and the curriculum in each subject to support students on their return as, inevitably, students will all have had different learning experiences at home and have covered differing amounts of the work set.
Contact and Wellbeing
We are also working with teachers to ensure a really smooth transition back to school for all our students in September and we are aware that students may need some support with their wellbeing when they return. We are planning extended sessions with their form tutors on their first day to give them time to reflect on the last few months, explain how school will work, allay any fears or anxieties and re-establish how we will work together as a school community.
Alongside all of the regular communication that we make to a large number of families, all form tutors have been in touch with all students over the telephone. Tutors will contact their tutees again over the next couple of weeks to ensure that everything is going well for them before the summer holidays. Please do get in touch with us should you require any additional support for your child from a member of the pastoral team or form tutors.
School Uniform
I said that I would write today to explain whether parents should begin to buy uniform for September. I didn't want families to spend money on the uniform until we had more clarity about the opening in September. As the government advice and information is still not clear, we think it would be unwise and unhelpful to decide on what the school uniform expectation will be at this point: instead we will give confirmation on our position on Friday 10 July. This will still give parents over eight weeks to purchase the items that are required but ensures that you do not purchase items that will not be needed until later in the year. We apologise for this delay, but hope that it ensures that you only buy the uniform when we know that students will be able to wear it.
Eco Laundry uniform donation points open again next week
You may remember our request for school uniform donations for our Eco Laundry at the end of last half term. All families can use our Eco Laundry to buy, swap or donate items of school uniform as a way of protecting the environment and of keeping uniform costs down for everyone. At a time when many people's family budgets are being squeezed and we are all trying to reduce the negative impact of our daily lives on the environment, we are keen to collect as much uniform as we can so that everyone is able to buy good quality pre-worn uniform, should they require or prefer, at a very low cost.
Thank you to all families who used our uniform donation points to donate school uniform during half term; we were absolutely delighted with the response.
Last week a team of Eco Laundry volunteers washed, dried, ironed, folded and labelled many washing machine loads of donated school uniform and PE kit and our Eco Laundry shelves are now much fuller and beautifully organised!  For the next two weeks our uniform donation wheelie bins will again be chained to the school railings at the front and back of school.
If your child has grown out of any items of uniform we would be very grateful if you could bag these up securely by tying the top of the bag shut and place them in one of the wheelie bins which you will find attached to or just inside the front and back gate. The uniform donation wheelie bins will be available 8am-4pm Monday to Friday for the next two weeks and will be emptied every day by our site team. We are particularly keen to receive smaller sized uniform to assist parents and carers of our new Year 7 students with the costs of moving to secondary school. We are currently working on a plan for selling our recycled uniform in the last week of term, whilst upholding government guidance regarding visits to school. We will let you know once this has been finalised.
Student end of year reports
Over the next couple of weeks we will issue end of year reports for all students in Years 7-10. These reports will include students' attendance, the number of late arrivals, their total of positives and negative comments and their latest tracking data up to the point of closure.
Best wishes
Miss G Greenhalgh
Development Project News
We are delighted to confirm that two exciting development projects will be getting underway on Monday 29 June.
The Artificial Grass Pitch project, funded by City of York Council as part of the expansion of Scarcroft School, will create a fantastic sports facility available for use all year round for Millthorpe and Scarcroft students, as well as children in other local schools and for the wider community. After more than four years of waiting, we are eagerly looking forward to children finally being able to gain all the benefits to physical and mental wellbeing this will provide, hopefully just as the easing of restrictions makes group sport and outdoor activities more and more accessible.
The Applefields Satellite project will provide purpose-built accommodation for Applefields students on the Millthorpe site, allowing them to integrate with mainstream students whilst still receiving  dedicated support from Applefields staff. This supports our commitment to an inclusive ethos for our school community, as well as allowing us to draw on their specialist expertise and experience.
In both cases, the construction has been planned largely to take place during the summer break and is expected to complete in October.
Virtual assembly
This week's virtual assembly is presented by Mr Bates and follows on from the wellbeing sessions which have been taking place in school.
River safety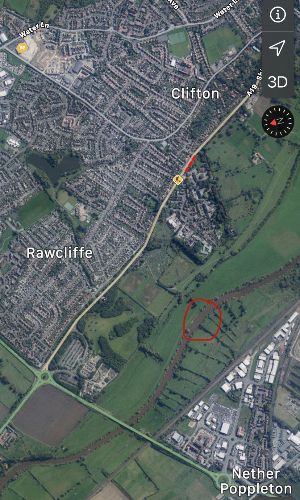 We have been lucky to enjoy some superb sunny weather this week but this has brought some concerning behaviour involving young people of secondary school age.
Large groups have been seen swimming in the River Ouse in various locations. As we know, there is a particularly strong current in the river and a number of people have drowned in recent years. Also, the group sizes significantly exceeded the social distancing rules of six and the young people were not keeping their distance.
Whilst we do not know if any of our students were involved, we would ask you to speak to your child about this; to remind them of the dangers of entering the river and to reinforce rules around social distancing.
We have shared this information with the police so that they can look to increase patrols in the area and have also shared it with other York secondary schools so that they can raise awareness amongst their communities.
Unlocking Performance – Bitesize Briefings
Over the coming weeks, the Dame Kelly Holmes Trust will be hosting an 'Unlocking Performance – Bitesize Briefings' webinar series led by world-class athletes. Covering a range of topics, each webinar will provide young people with a unique insight into the key attitudes and mindset that drive a world-class team and individual performance. Topics will include:
Leadership, Confidence and Belief, Motivation, Resilience and Problem Solving, Wellbeing, Goal Setting, Communication and Teamwork.
Please note that whilst these sessions are free, the Dame Kelly Holmes Trust is a charity committed to supporting young people facing disadvantage. They ask that if you find these sessions useful, please consider donating £5 to the Trust.
Maths Inspiration Show
We have had lots of interest in the Year 10 Maths Inspiration Show and have therefore booked everyone a place. The log in details will be sent out once we have them.
It is not too late to request a log in if anyone else would like to attend. Just email Mr Bruce and he will add you on to the list.
Junior Maths Challenge – a message from Mrs Papprill
Well done to everyone that took this week's Junior Maths Challenge. We entered 120 students from Years 7 & 8 as we do every year. However, we have never done it online before, so it was a new experience for us all.
Those of you that know me will be laughing at the thought of my IT skills (which have improved so much during lockdown – turn it off and back on again!) and me trying to set it all up!
I think although I was receiving three-plus emails a minute from students and parents, we managed to get everyone online and sorted. I think we only had two girls who have worked as a tag team and seemed to be on the same login!
The challenges are designed to be 'challenging' and I know that a lot of you did not get to the end of all the questions. That is absolutely fine and exactly what I would expect. You will have done great! I will send out the results as soon as I get them.
Thank you all again, firstly for your engagement and secondly for your patience with me during the challenge. If any of my reply emails seemed curt I am sorry, I was just trying to reply in real time as quickly as I could.
Give me a pencil and piece of paper over a computer any day.
Take care
Mrs Papprill
Read Theory challenge
Year 7 are continuing their excellent work on the Read Theory website. This week's highest scoring form was 7RNH – well done! Next week, reward wristbands should be making their way in the post to all students who have achieved more than 500 points.
If your child hasn't begun working on Read Theory yet, all you need to do is send an email to
Ms Bradsell
and she'll set them up.
Keeping up with current affairs
Take a look at this week's edition of The Week Junior here.
Students now need a voucher code to access the magazine – all you need to do is click Login at the bottom of the magazine cover, then scroll down to: Have voucher code? on the right hand side and enter the code supplied in the weekly email.
Safeguarding
https://www.millthorpeschool.co.uk/millthorpe/wp-content/uploads/logo.jpg
292
250
Jane Taylor
http://www.millthorpeschool.co.uk/millthorpe/wp-content/uploads/Website-Header-1.png
Jane Taylor
2020-06-26 18:07:13
2020-06-29 12:14:54
WEEKLY EMAIL Friday 26 June 2020